Dunlop - Univibe UV1
Beschreibung
Dunlop - Univibe UV1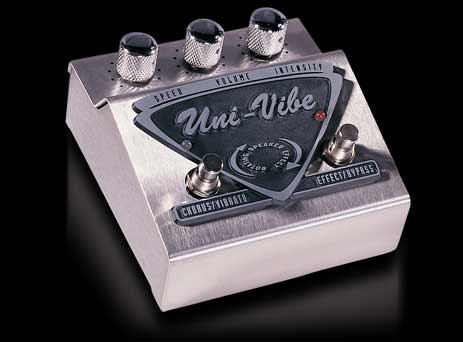 XXL-Ansicht
 
 Dunlop Univibe UV1
DIE Legende und Mutter aller Vibe-Effekte. Jimi Hendrix hat diesen Effekt unsterblich gemacht. Sicherlich nicht für Jedermann gemacht, aber den typischen Univibe-Effekt bekommst Du nur mit diesem Pedal.
breiter Chorus/Rotary Sound
Vibrato
handselektierte Photo- Zellen
incl. Netzteil


Herstellertext:
Das Dunlop Uni-Vibe verwendet das originale Uni-Vibe Design mit handselektierten Photozellen. Es stehen nebem dem Rotary Speaker Effekt auch Chorus und Vibrato zur Verfügung. 
- originales Uni-Vibe Design
- breiter Chorus/Rotary Sound
- seltener Vibrato-Effekt
- handselektierte Photozellen
- Custom engineered Light Housing
- Regler für Speed, Volume und Intensity
- Chorus/Vibrato Schalter
- lautloser Effect/Bypass Schalter
- hochwertigste Hardware
- optionale Steuerung der Geschwindigkeit durch das UV-1FC Pedal
- stabiles Stahlgehäuse
- Netzteil ECB-004 im Lieferumfang enthalten
 
The Dunlop Uni-Vibe® incorporates the original Uni-Vibe® circuit design utilizing hand matched photoresistors, a long-life incandescent lamp, and custom engineered light housing to insure the sonic integrity of the unit. The durable brushed stainless steel housing is designed to protect the control knobs against accidental bumping during play. Features include silent switching with hi-reliability hardware, providing low noise and extended life, and high quality jacks to ensure solid connections. This adds up to classic sound and reliability. With the Uni-Vibe's renowned chorus and vibrato modes you'll find yourself playing a lot of new things from sheer inspiration. The Chorus sound is thick, phasey, and a lot like a rotating speaker while the Vibrato sound bends the pitch up and down, giving a cool quivering texture to your sound. In either mode, the speed, volume, and intensity knobs let you twist and turn your sound into a new dimension. Power: Comes complete with Dunlop ECB-004 AC Adapter - Note: The Uni-Vibe® functions without the optional UV-1FC controller pedal with its own built-in speed control.
 
 
---