Jam Pedals - Retro Vibe - vintage UniVibe
Beschreibung
Jam Pedals - Retro Vibe - vintage UniVibe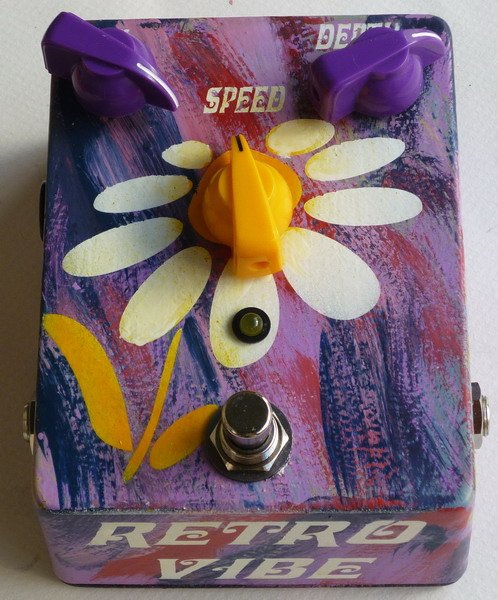 XXL-Ansicht
JAM PEDALS - Retro VIBE
vintage UniVibe
Handverdrahtete Effekte auf Basis bekannter Klassiker, die den Sound der 60er und 70er reproduzieren – das ist die Philosophie bei JAM. Verwendet werden unter anderem "Tropical Fish" Kondensatoren, "Carbon Comp" Widerstände und Gold Mullard OC44" Germanium Transistoren. Das Ergebnis spricht für sich. Wer nach dem Sound von Legenden wie Pete Townsend, Eric Clapton, Mark Knopfler, Skunk Baxter, Jimi Hendrix oder Andy Summers sucht, wird bei JAM fündig. Unsere Standing Ovations gehen an die individuelle Gestaltung der einzelnen Pedale – unbedingt ausprobieren!
 Features:
Regler: Level / Depth / Speed / chorus-vibrato switch
mit LED

True Bypass

Batterie 9V oder Netzteilbetrieb 9V DC (beides nicht im Lieferumfang dabei)


jedes Pedal ist handbemalt und  ein Unikat, Designabweichungen möglich
Our aim was to achieve the original sound of the UniVibe, having always as reference an Original '69 UniVibe. The result: we dare you to compare it with any other UniVibe of the market, even with the original ! The smallest possible size ! (115 x 89 x 57 mm)
Made with the original transistors 2SC828 and carbon comp resistors...the exact clone of an original UniVibe...If you are a Hendrix / Trower fan, this is your pedal !
Controls

: Level , Depth, Speed,  chorus/vibrato toggle switch
Works with 9V DC boss-type adaptor (inside the RetroVibe the power is ramped up to the original Univibe's 15V DC)
Life-time warranty !
All of our pedals are true-bypass, made not to affect your hard-earned tone.
Circuits are based on classic 60's and 70's vintage pedals that helped built the sound of Rock 'n' Roll, most times with an added twist!
They burst with attitude as ALL of our stompboxes are hand-painted and decorated, from our in-shop-artists, and no two are alike !