XOTIC BB - LTD10 PREAMP !
XOTIC BB - LTD10 PREAMP !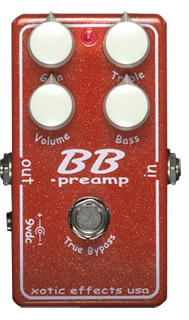 XXL-Ansicht

Der BB Pre Amp verfügt über die meisten Verzerrungsreserven des Booster Trios. Die Klangfarbe geht in Richtung British und man kann sehr schöne Hi-Gain Sounds damit hinbekommen.
Die Regelmöglichkeiten umfassen : Gain,, Volume, Treble, Bass
True Bypass Schalter, LED-Anzeige, 9 Volt Anschluss
Preamp Limitierte 2010 Serie

Booster oder Distortion Pedal

mit Volumen - Gain - Treble und Bassregler

True Bypass Schalter

soft Distortion und singing lead Sounds, 30dB+ clean boost, ±15dB two band active EQ

Netzteil optional
" The BB Preamp is a great sounding soft Distortion and Sustain pedal. It really produces a great fat singing lead tone! The BB gives you a more sustained focused lead tone than the AC. Between the RC, AC, and BB, you can cover all your boost, overdrive, and gain needs!" Josh Smith

Scott Henderson said:
"I tried the BB Preamp on my gig and I love it! After 3 years using the SD-9 I'm changing to the BB in my rack. I'll talk about it on my message board!
Scott Henderson!" Scott Henderson message board is here!

Lee Ritenour said:
" I was worried about airplane travels in Europe. So I brought my new Signature model, which is a very nice guitar but it doesn't have quite the push of the sound that I like that I got from my old one. So I used the BB Preamp with the gain all the way down. I almost used it as a pre-amp in the sense of just boosting the clean sound a little bit. As a true booster of the tone and the volume. Almost like a compressor without compressing. It's very effective for me...."
Lee's Full interview is here!

Steve Lukather said:
I used my Xotic pedals and love them. They are my "secret weapon" at Simon Phillips studio. I used it on Tony Levins new Cd as well as some of the new Toto Cd. Luke

Greg Howe said:
"This is one of the only pedals I've ever played through that actually enhances most of the characteristics that I look for in a cool tone, and that are typically desired by tone conscious players. With most gain-boost pedals you sacrifice tone for playability.this pedal adds to the tone while giving you that fun playability. Very Nice!" Greg's Video Clip is here!

Reviews

"The first time I used BB Preamp I was blown away! I've never heard such warm, subtle, tube-like distortion from a pedal like this before!" - Wayne Johnson

"The BB Preamp picks up where the where the Tube Screamer has left off. Its smooth sustain and rich harmonics are enhanced by its perfectly voiced EQ section." - Blues Saraceno

Vintage Guitar Magazine Review is here!

BB Preamp was introduced at NAMM show 2005