Jam Pedals - TUBE DREAMER 58 - vintage overdrive
Beschreibung
Jam Pedals - TUBE DREAMER 58 - vintage overdrive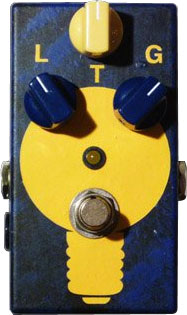 XXL-Ansicht
JAM PEDALS -TUBE DREAMER 58
vintage overdrive
Der JAM Pedals Tube Dreamer 58 basiert auf der Legende des originalem Tubescreamer 808.
Der legendäre Sound, der eine Generation geformt hat.
Der JAM Pedals Tube Dreamer 58 bietet mehr Klarheit, als ein typischer Overdrive.
Beim JAM Pedals Tube Dreamer 58 kannst du sogar die individuellen Noten aus Akkorden hören, welche normalerweise untergehen. Für TonFan's des typischen Stevie Ray.. Sounds das ultimative Must Have!

Handverdrahtete Effekte auf Basis bekannter Klassiker, die den Sound der 60er und 70er reproduzieren – das ist die Philosophie bei JAM. Verwendet werden unter anderem "Tropical Fish" Kondensatoren, "Carbon Comp" Widerstände und Gold Mullard OC44" Germanium Transistoren. Das Ergebnis spricht für sich. Wer nach dem Sound von Legenden wie Pete Townsend, Eric Clapton, Mark Knopfler, Skunk Baxter, Jimi Hendrix oder Andy Summers sucht, wird bei JAM fündig. Unsere Standing Ovations gehen an die individuelle Gestaltung der einzelnen Pedale – unbedingt ausprobieren!
 Features:
Controls

: Level , Tone, Gain
It works with a 9V battery or 9V boss-type DC adaptor (negative tip)
It uses only 6mA of power when ON

Dimensions

: 111 x 60 x 32 mm (TD72, TD58) 
Limited Life-time warranty !
Vintage Overdrive based on the legendary original Tubescreamer 808. The legendary sound that shaped a generation !
Made from the best materials in the market and with carbon comp resistors for true vintage sound !
TubeDreamer offers much more clarity than a typical overdrive. You can actually hear the individual notes of complex chords that would normally be buried !
 
Comes in 4 versions :
TubeDreamer 58 : TD58 offers the classic Tubescreamer sound using the JRC4558 chip just like the original Tubescreamer. If you're after that classic Stevie Ray "howl", then this is the pedal for you !


TubeDreamer 72 : TD72 plus a High Gain switch. Tailored for those that need just a touch more gain than they can get from a typical overdrive. With the HighGain switch you can boost your TubeDreamer sound and depending on your gain setting, you can either achieve a thicker, creamier overdrive sound, or touch the limits of a sweet, fat vintage distortion sound !
TubeDreamer+ : TubeDreamer72 + a High Gain switch. Made for those that need more drive than a typical overdrive. With an extra switch you can boost your TubeDreamer and achieve a sweet-fat vintage distortion sound !
TubeDreamer 88: Consists of the TD72, the TD58 and a High Gain toggle-switch in this case aiming the TD58. Made for those who need more than one different overdrive settings, as well as for those that prefer an original tubescreamer808, but with higher gain, still having the option of the more transparent TD72 sound.
 
 
All of our pedals are true-bypass, made not to affect your hard-earned tone.
Circuits are based on classic 60's and 70's vintage pedals that helped built the sound of Rock 'n' Roll, most times with an added twist!
They burst with attitude as ALL of our stompboxes are hand-painted and decorated, from our in-shop-artists, and no two are alike !