Bare Knuckle Pickups - BKP-92 single
Bare Knuckle Pickups - BKP-92 single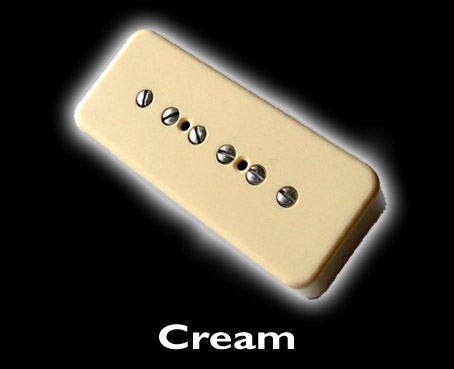 XXL-Ansicht
BKP-92 single
Bare Knuckle Pickups ist eine kleine Manufaktur mit Sitz in England. Hier arbeiten Freaks für Freaks, das alleine Ziel ist es, die bestklingenden Pickups und excellenten Service zu bieten. Die lebenslange Hersteller-Garantie auf die Pickups spricht da eine deutliche Sprache.BKP deckt mit seinen Produkten das gesamte Spektrum hervorragender passiver Pickups ab. Es sind alle denkbaren Variationen bestellbar, vom Einzelpickup bis zu kalibrierten Sets, aged oder normal, verschiedene Pickup Covers und Polungen, gewachst oder ungewachst bis hin zu Humbuckern für 7-String oder 8-String Gitarren wird alles in kurzer Zeit hergestellt und geliefert.
Sonderwünsche werden erfüllt. Die PU's werden frisch gewickelt, wobei die Lieferzeit meist nicht mehr als 2 Wochen beträgt.
BKP-92 single
Der Original Single Coil, unverwechselbares Erscheinungsbild und mit fettem Sound.
Die drei Bare Knuckle P-90 Pickups 90er sind alle mit den gleichen Methoden gebautund unterscheiden sich in allein durch die Wicklung. Alle drei sind voll Wachs vergossen, um unerwünschte microphonic Feedback zu vermeiden, haben geflochtenes Kabel mit zwei Leitern und kommen sowohl in Soapbar und dogear Versionen.
Diese fantastischen klingenden Pickups schließen wirklich die Lücke zwischen Standard-Humbuckern und Single Coils, fetter Sound und mächtig unter Beibehaltung hervorragender Klarheit und mit herausragenden klanglichen Präsenz.

BKP-92 - Alnico V Magneten und overwound mit speziellen Lackdraht. Riesiger vollmundiger P90 Sound - warm, kraftvoll und artikuliert, ohne Verlust des Atacks oder der Definition. Must have!

Erhältlich als Set kalibriert für Brücken-und Nacken-oder einzeln mit Schwarz, Creme-oder Nickel-Abdeckungen und optionaler Reverse Wind / Verpolung.
Position: Bridge
Conductor: 2 Conductor + Screen
Colour: Cream
Cover: Soapbar

DC

: 8,6k* (bridge)

Neck Magnet

: Alnico IV
Options: Available in calibrated sets as with Nickel, Chrome, Black or Gold Covers and a RW/RP neck. 
BKP-92 single
 
 
The original single coil; unmistakable appearance and sought after fat sound. 

The three Bare Knuckle Pickups '90s are all constructed using the same methods; scatterwound by hand with plain enamel wire and assembled on a choice of hand machined nickel silver or brass baseplates with nickel silver pole screws. 
All three are fully wax potted to prevent unwanted microphonic feedback, have original braided two conductor cable and come in both soapbar and dogear versions.

These fantastic sounding pickups truly fill the gap between humbuckers and standard single coils, being fat, gutsy and powerful whilst retaining superb clarity with outstanding tonal presence.

BKP-92 - Alnico V magnets and overwound with special enamelled wire. Huge full bodied '90 sound - warm, powerful and articulate with no loss of attack or definition. Who needs humbuckers anyway!
DC: 8.6k* 

Available as sets calibrated for bridge and neck or singly with black, cream or nickel covers and optional reverse wind/ reverse polarity. 

Wound, made and played the traditional way-by hand! 

 

Includes a light gauge set of guitar strings to complete the ultimate pickup retrofit.

 


 
 
 
Our commitment to producing the best sounding pickups possible means that we don't cut corners on anything whilst keeping the price to the end user as fair as possible. 

We want you to have the same confidence in our pickups as we do so you can get on with playing the guitar knowing you've got the ultimate pickup for the job. After all, that's why we're here in the first place and why we warranty our pickups not just for a few years but for life!. 

   Our commitment: 

1. Always build the best sounding pickups possible.
2. Only use the finest and most traditionally authentic materials.

3. Wind all our pickups by hand, one at a time here in the UK.

4. Manufacture or source all our components in the UK.

5. Warranty all our pickups for life to the original purchaser.

6. Supply the best customer service and backup available.

7. All pickups made specially to order with a fast turnaround time.

8. Listen to you the guitar player and what you want.

9. Never compromise on creating the best so we can all have more time playing theguitar. Amen.