Bare Knuckle Pickups - Mother's Milk Single Coil Strat
Bare Knuckle Pickups - Mother's Milk Single Coil Strat Set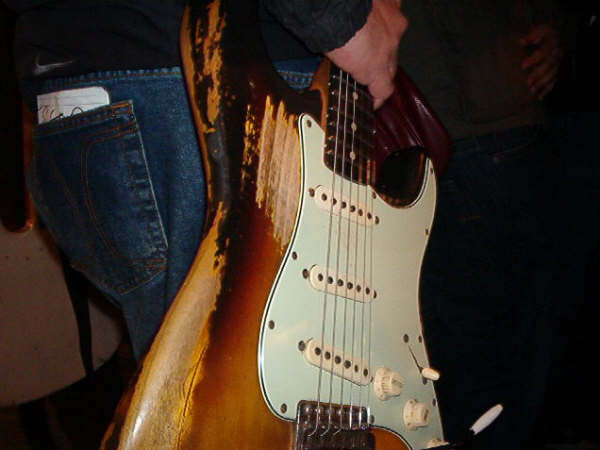 XXL-Ansicht
Mother's Milk Single Coil Strat Set

Bare Knuckle Pickups ist eine kleine Manufaktur mit Sitz in England. Hier arbeiten Freaks für Freaks, das alleine Ziel ist es, die bestklingenden Pickups und excellenten Service zu bieten. Die lebenslange Hersteller-Garantie auf die Pickups spricht da eine deutliche Sprache.BKP deckt mit seinen Produkten das gesamte Spektrum hervorragender passiver Pickups ab. Es sind alle denkbaren Variationen bestellbar, vom Einzelpickup bis zu kalibrierten Sets, aged oder normal, verschiedene Pickup Covers und Polungen, gewachst oder ungewachst bis hin zu Humbuckern für 7-String oder 8-String Gitarren wird alles in kurzer Zeit hergestellt und geliefert.

Sonderwünsche werden erfüllt. Die PU's werden frisch gewickelt, wobei die Lieferzeit meist nicht mehr als 2 Wochen beträgt.

Mother's Milk Single Coil Strat Set

 RHCP - John Frusciante lässt grüßen.... 

Legendär heißer Vintage-Sound, im erdig zeitgenössischen Stil. Tight und mit holzigem Charakter - genau die richtige Balance für die Power.

Dieses Set kommt mit Vintage Alnico V gestagerten Polen, von Hand für den authentischen Retro-Vibe abgeschrägt.

Von Hand gewickelt mit speziellem Draht, die Spulen sind kalibriert für einen Hauch mehr an Power und Mid-Range Stück mit einem klaren, detaillierten Höhen. Reverse-Wound Verpolung des mittleren Pickups (Hum Cancelling, wenn sie mit der Brücke oder im Hals-Pickup in Position 2 oder 4 verwendet werden mit einem 5-Wege-Schalter), mit Wachs vergossen,  um Feedback zu vermeiden und lebenslanger Hersteller Garantie.

 Kommt mit 1 Satz Rotosound und 1 BKP-Plek!

 

 
DC: 6.5/5.7/5.7K calibrated*
Magnet: Alnico V hand bevelled 

vintage stagger

Polarity: RW / RP

Pickup Cover: Cream

Aged Coils
Options: white, black, vintage cream, mint green or parchment white
 Legendary hot vintage sound, earthy contemporary style. Tight and woody character with just the right balance of power. 
The Mother's Milk set of single coil pickups come with vintage staggered Alnico V pole pieces, hand bevelled for authentic retro vibe and increased magnetic focus under each string.
Scatterwound by hand using original plain enamel wire, the calibrated coils have a touch more power and mid range chunk over stock with a clear, detailed top end. Reverse-wound, reverse polarity middle pickup (hum cancelling when used with the bridge or neck pickup in position 2 or 4 of a 5 way switch), cloth "push back" cable, wax potted to prevent michrophonic feedback and guaranteed for life. 
Available with optional flat profile magnets for modern radius guitars, original stock polarity middle pickup and all sets come complete with covers.*
 
Our commitment: 
1. Always build the best sounding pickups possible.
2. Only use the finest and most traditionally authentic materials.

3. Wind all our pickups by hand, one at a time here in the UK.

4. Manufacture or source all our components in the UK.

5. Warranty all our pickups for life to the original purchaser.

6. Supply the best customer service and backup available.

7. All pickups made specially to order with a fast turnaround time.

8. Listen to you the guitar player and what you want.

9. Never compromise on creating the best so we can all have more time playing theguitar. Amen.