Hayden Classic Lead 80 Head Red Tolex Custom Shop
Hayden Classic Lead 80 Head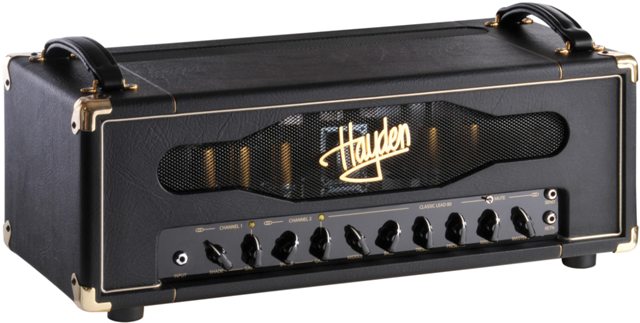 XXL-Ansicht
Hayden Classic Lead 80 Head
100% British Beef!

Mal wieder ein Schätzchen aus der Boutique.

Für den amtlichen Ton garantiert Chfdesigner Dave Green, welcher früher als einer der führenden Köpfe hinter Matamp stand.
Der Classic Lead 80  bringt Dir den absolut oberamtlichen Referenzton eines Vintage Hard Rock Röhrenverstärkers - angelehnt an die modifizierten Rock Amps mit dem großen "M" aus den 70gern - mitten ins Gesicht!! Aber bitte immer mit Sahne....SCHMATZ!!

Hier kommt ein Einzelstück direkt aus dem UK-customshop in rotem Tolex!!

Hier nochmal in der Muttersprache für Freaks zum Mitshredden:
Hayden Amps offer timeless elegant products handmade in Essex UK with traditional values combined with modern features using the finest quality components and built with care and devotion. The Classic Lead 80 is a handmade 80 watt 2 channel rock monster.

Free of superfluous gimmicks, it gets you straight to the sound with a performance reminiscent of '70s British rock moving on to more aggressive, modern tones.
 
Rated at 80-Watts, the Classic Lead strikes the perfect balance between the characteristics of a 100-Watt design - particularly the low frequency response - and the advantages of a 50-Watt amp, most notably the ability to drive it harder at gigging volume levels.
 
Channels 1 and 2 vary only in their gain structures, 1 being medium to high gain covering subtle warmth to a huger, 3D crunch, and 2 taking things further into full, saturated, sustain without a hint of fizz. Presence, bass, middle and treble controls are provided for tone shaping but the Classic Lead won't make you work hard to get a great sound. It's all there, straight out the box. Presence isn't something you need to dial in on the the Classic lead - it's already going to be right up there in your face.
 
Dual master volume controls keep the levels matched when switching between channels and the Classic Lead also includes a true bypass post EQ effects loop.
 
The Classic Lead isn't just about tone. It's also about response. Unlike other valve amp designs, the Classic Lead doesn't rely on negative feedback in the circuit design to deliver a 'pleasing' sound at the expense of dynamic response. Using custom-wound oversized output transformers, the Classic Lead 80 plays with you rather than against you, tracking your playing extremely quickly and making you feel truly connected to the sound.
 
When reviewed by Guitarist magazine they were quick to award the Classic Lead 80 with a coveted Guitarist Choice Award and commented;
 
"...loud, fat as hell and with a wicked, instantly lovable rock distortion tone."
 
"...five stars for sound."
 
"...why the hell doesn't Marshall make this amp?"

Classic Lead 80 Specifications
| | |
| --- | --- |
| Power Output (RMS) | 80 Watts Rms Nominal Dependant on Valve Choice and Internally Selectable B+ |
| Power Requirement | Internally Selectable |
| Speaker Outputs | 2X8 OHM 1 X 16 OHM 1/4 |
| Low Instrument Input | Input Impedance Optimised for Electric Guitar 220K 4700Pf |
| EQ | Bass ,Middle,Treble and Presence Passive |
| Effects Send | Yes, Tube Boosted |
| Effects Return | Yes, Tube Recovered |
| Pre-Amp Tubes | 4 X ECC83 |
| Output Tubes | 4 X EL34 |
| Distortion | Gain control X 2 and master volume X 2 |
| H x W x D (mm) | 625 x 345 x 390 |
| Weight (kg) | 21 |
Review about:
Hayden's new Classic Lead 80 takes the less-is-more approach, offering what it regards as the minimum requirement for a hard rock head: two straight-up master volume channels ? with no 'superfluous gimmicks', as the company puts it ? a powerful EQ section and an effects loop: no more, no less. Hand-wired in England, it's pointing a boastful barrel straight at Marshall ? how is Hayden's aim?
The Classic Lead 80 sits at the top of Hayden's UK Hand Wired series. Ex-Matamp man Dave Green is on board full time in the design department, having clocked up an eight-year relationship with Hayden and its forebear Ashdown. Given the Hand Wired tag, it's slightly surprising to see everything mounted on PCBs ? albeit hand-wired PCBs ? in the Classic Lead 80.
That said, by using high quality through-plated boards, minimum two-watt resistors, polypropylene caps and other quality parts, it's a step above the common, mass-produced, mid-priced PCB valve amps from the likes of Marshall, Peavey and indeed Hayden's own Peacemaker. And just in case you were in any doubt as to whether it's still a boutique amp at heart, a white light illuminates everything behind the front grille when you turn it on: classy.
The circuit begins, like so many modern rock amps, with the spirit of seventies modded Marshalls. Thus we get a 4 x EL34 power section putting out 80 watts. Why 80? Well, according to Hayden it offers all the good stuff from a 100-watt EL34 design, particularly the low-end response, with some of the sag and saturation you'd associate with a 50-watter.
"If killer rock guitar tone is this easy to dial in with such a simple front panel, why does everybody else bother with endless switches, modes, channels and so on?"
"You can get 200 watts out of four EL34s if you want," laughs Dave Green, "but you'd need about 800 volts [plate voltage] and it'd be class B. Most amps will run about 500 volts for 100 watts in class AB, but I chose 80, which is around 475 volts. That's because a lot of people think that a 50-watt Marshall is not enough, but a 100-watt is too much. I also think that four valves gives a smoother distortion than two and you get more room in the distortion area; more headroom."
Also unusual for an amp of this kind is the fact that there's no negative feedback loop (a bit of electronic design that keeps amps slightly more stable with less noise), which usually equates to a quicker, more visceral and dynamic response.
The front end is made up of two channels; the first does crunch tones and beyond by having three continuously variable gain stages off the single gain pot. The second is slightly hotter and fatter in that it runs one stage flat out all the time.
In truth there's more than enough distortion in the first channel alone for classic seventies and eighties rock: this is not an amp for crystal clean tones. The channels both feature Hayden's 'shade' control ? a six-position rotary control that fattens the tone the more you turn it anticlockwise.
It's a useful instant route to matching the amp to your guitar's general tonal response, and can also be useful for adding fatness at low volumes, or getting rid of mud at gig volumes. "It's a bit like Gibson's Varitone," explains Green. "Matchless has used it, Matamp uses it; it's a pre-shape that varies EQ and gain to cut out the bass."
After that you have a simple gain and master volume control for each channel. Below halfway on the gain controls are where the clean-ish to crunchy sounds are, while after halfway brings in extra gain stages for progressively more thick, harmonic distortion.
The EQ controls comprise bass, middle and treble and they're powerful throughout their entire range. "It's a totally passive circuit," says Green to our surprise, though he's unwilling to divulge full details. "It's all about how it's driven that makes it actually work," is the hint to what's going on.
Finally, on a practical level, the two top-mounted handles are useful ? it's a heavy beast ? but they shouldn't be at the expense of a single, middle handle too: you have no option but to use two hands, which is a pain in the butt when it comes to things like opening doors, locking cars, smoking fags and other gig-night essentials.
More subjectively, the Hayden logo has met with some disapproval around these parts. Horses for courses, but the consensus is that it lacks the necessary gravitas for the front of a pro rock amp. The jury is out, but the case is far from trivial.
---