Jam Pedals - FUZZ PHRASE - vintage germanium Fuzz
Beschreibung
Jam Pedals - FUZZ PHRASE - vintage germanium Fuzz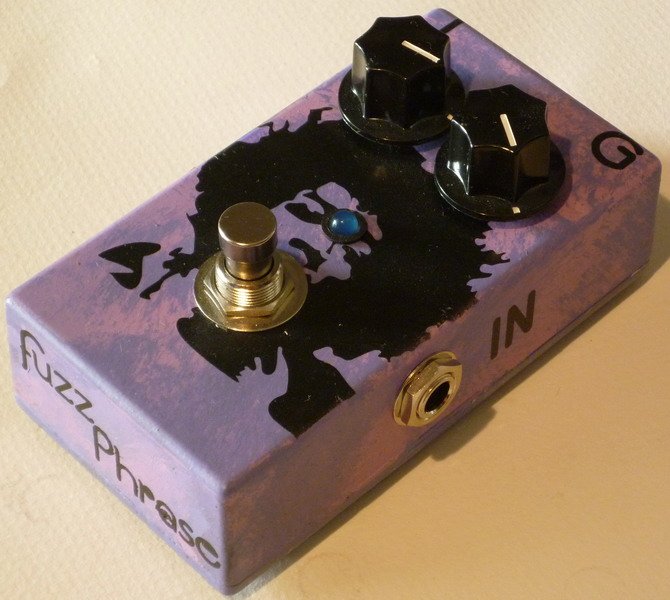 XXL-Ansicht
JAM PEDALS - FUZZ PHRASE
vintage germanium Fuzz
Handverdrahtete Effekte auf Basis bekannter Klassiker, die den Sound der 60er und 70er reproduzieren – das ist die Philosophie bei JAM. Verwendet werden unter anderem "Tropical Fish" Kondensatoren, "Carbon Comp" Widerstände und Gold Mullard OC44" Germanium Transistoren. Das Ergebnis spricht für sich. Wer nach dem Sound von Legenden wie Pete Townsend, Eric Clapton, Mark Knopfler, Skunk Baxter, Jimi Hendrix oder Andy Summers sucht, wird bei JAM fündig. Unsere Standing Ovations gehen an die individuelle Gestaltung der einzelnen Pedale – unbedingt ausprobieren!
 Features:
Vintage Fuzz

mit den original Mil-spec OC44 (CV7003) germanium transistors

mit Regler für Level, Gain, internal BIAS trimmer

True Bypass

Batterie 9V oder Netzteilbetrieb 9V DC (beides nicht im Lieferumfang dabei)


jedes Pedal ist handbemalt und  ein Unikat, Designabweichungen möglich
A true vintage Fuzz Face, a legendary sound that shaped a generation...Made from the greatest parts and with carbon comp resistors for pure vintage sound! There are many variables that determine the quality, tone, cleanup ability of a Fuzz Face. We feel that transistor choice is crucial, therefore we searched and found the best germanium transistors ever made :
the Mil-spec OC44 (CV7003) germanium transistors, that are hand-picked for gain and leakage.
Fuzz Phrase has a great cleanability ! Just play with the guitar volume...
Controls

: Level , Gain, internal BIAS trimmer
Works with 9V battery or 9V DC boss-type adaptor *(this circuit uses positive ground. For that reason do not connect this pedal to the same power supply with other common pedals).
Do not connect any non-true-bypass pedal before the Fuzz Phrase ! The pedal will not sound properly ! You can check this out and hear the difference...
uses only 5mA of power when ON and barely any power when off (under .2mA!) so the battery will last hundreds of hours !
Life-time warranty !
Fuzz Phrase can be used also with bass.
 
 "The Fuzz Phrase has been with me on the road since I got it and I use it every night. It always sounds fantastic and is the epitome of what a fuzz should sound like. So many fuzz pedals don't seem to give you a tangible boost. You hit them and the sound just seems impossible to tame. The Fuzz Phrase is a no brainer. You hit it and it boosts your signal with a glorious fuzz onslaught !"
Greg Koch
 "I love the unique warmth and complex harmonics of the Fuzz Phrase. It makes even a small combo amp sound huge ! I compared it to my other fuzzes and it is by far the best sounding germanium fuzz in my house so it is going on my pedal board immediately." ... Julien Kasper
 
All of our pedals are true-bypass, made not to affect your hard-earned tone.
Circuits are based on classic 60's and 70's vintage pedals that helped built the sound of Rock 'n' Roll, most times with an added twist!
They burst with attitude as ALL of our stompboxes are hand-painted and decorated, from our in-shop-artists, and no two are alike !