Jam Pedals - ROOSTER - vintage treble-booster
Beschreibung
Jam Pedals - ROOSTER - vintage treble-booster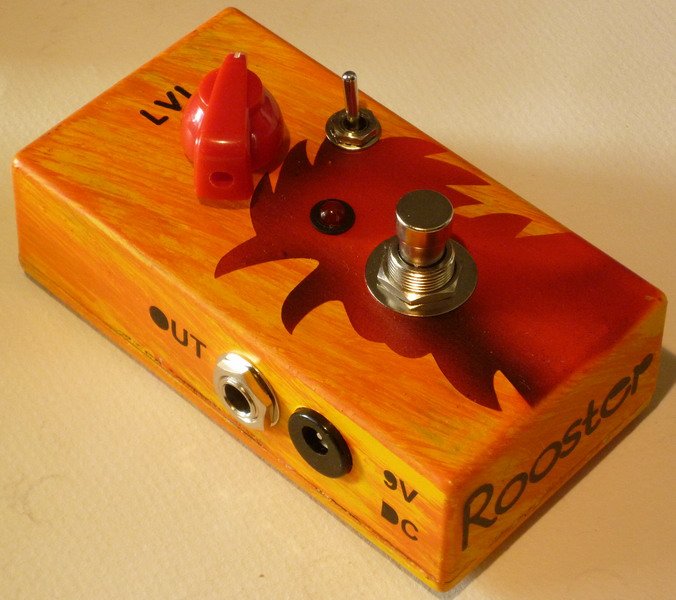 XXL-Ansicht
JAM PEDALS - ROOSTER
vintage treble-booster
Handverdrahtete Effekte auf Basis bekannter Klassiker, die den Sound der 60er und 70er reproduzieren – das ist die Philosophie bei JAM. Verwendet werden unter anderem "Tropical Fish" Kondensatoren, "Carbon Comp" Widerstände und Gold Mullard OC44" Germanium Transistoren. Das Ergebnis spricht für sich. Wer nach dem Sound von Legenden wie Pete Townsend, Eric Clapton, Mark Knopfler, Skunk Baxter, Jimi Hendrix oder Andy Summers sucht, wird bei JAM fündig. Unsere Standing Ovations gehen an die individuelle Gestaltung der einzelnen Pedale – unbedingt ausprobieren!
 Features:
Vintage Treble Booster basierend auf den Dallas Rangemaster

Regler für Level

treble/mid/bass toggle switch

True Bypass

Batterie 9V oder Netzteilbetrieb 9V DC (beides nicht im Lieferumfang dabei)


jedes Pedal ist handbemalt und  ein Unikat, Designabweichungen möglich
Rooster is a true vintage treble Booster based on the Dallas Rangemaster. A pedal which was greatly used by Eric Clapton in the Bluesbreakers, Rory Gallagher, Brian May and Tony Iommi. Especially useful for solos. Built from the greatest parts, tropical fish capacitors and carbon comp resistors for pure vintage sound !
The transistor choice is crucial for the Rooster, therefore we searched and found the best germanium transistors ever made : the Mil-spec OC44 (CV7003) germanium transistors, that are hand-picked for gain and leakage.
Controls

: Level , treble/mid/bass toggle switch
Works with 9V battery or 9V DC boss-type adaptor *(this circuit uses positive ground. For that reason do not connect this pedal to the same power supply with other common pedals).
uses only 5mA of power when ON and barely any power when off (under .2mA!) so the battery will last hundreds of hours !
Life-time warranty !
 
"...playing the Rooster through a good overdriven tube amp evokes some of my favorite classic tones and you get a great variety of sounds by manipulating your guitar volume..." Julien Kasper
" The Rooster is an incredible ! It is the smoothest treble booster I've heard. Between the three settings, it is possible to get the original Rangemaster as well as Hornsby-Skewes tones. When pushing an amp, it's my favorite color. More than just hearing the note, you can actually "Feel" it coming through the amp." Ricky Z.
All of our pedals are true-bypass, made not to affect your hard-earned tone.
Circuits are based on classic 60's and 70's vintage pedals that helped built the sound of Rock 'n' Roll, most times with an added twist!
They burst with attitude as ALL of our stompboxes are hand-painted and decorated, from our in-shop-artists, and no two are alike !