KENT ARMSTRONG® - P90 PICKUP CREAM HIGH OUTPUT
KENT ARMSTRONG® - P90 PICKUP CREAM HIGH OUTPUT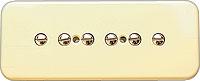 XXL-Ansicht
P90 PICKUP CREAM HIGH OUTPUT
Diese aufgepeppte Version des WPU90CR Kent Armstrong Pickup nutzt die Süße eines reinen Alnico-Magnetes. Dieser Pickup hat die tödliche Kombination von Strom-und Ton! Einer unser Favoriten und ausgezeichnet in der Bridge-Position Brücke in Kombination mit dem WPU90CR reversed. Cover: Cream.

ALNICO V MAGNET / D.C. resistance = 9.9K - Magnet dimensions in millimeters: 58 long X 3 thick X 12.5 wide.

This beefed up version of Kent Armstrong's already muscular WPU90CR pickup utilizes the sweetness of a pure alnico magnet. This pickup has the deadly combination of power and tone! A favorite among the WD staff and an excellent bridge position compliment to our WPU90CR R. Cream Cover. Available in reverse wound / reverse polarity.

Kent Armstrong has been designing and building pickups for over thirty years. In that time he has hand made or modified pickups for many of the music world's greatest stars, including Pete Townshend, Jimmy Page, Brian May, Rory Gallagher, and Jimi Hendrix. Some of his commercial clients have included D'Angelico Guitars, Eastman Strings, First Act, U.S. Masters, Conklin, Benavente, Celinder, Eshenbaugh, and Sadowsky (Guitars).