KENT ARMSTRONG® - P90 PICKUP (HUM. RETROFIT) BLACK
KENT ARMSTRONG® - P90 PICKUP (HUM. RETROFIT) BLACK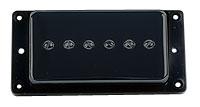 XXL-Ansicht
P90 PICKUP (HUM. RETROFIT) BLACK
Dies ist ein P90 Tonabnehmer Humbucker in großen Gehäuse. Es passt überall, wo ein Humbucker vorgesehen ist - ohne physische Änderung Ihrer Gitarre! Jetzt können Sie den wunderbaren P90 Ton in jeder Humbucker Gitarre erzeugen. Erhältlich auch in reverse winding für Brummunterdrückung. Ein rundum toller Tonabnehmer, geeignet für viele Musikrichtungen! Diese Pickups sind z.B. Grundausstattung in den Monterey Stromberg ® Gitarren und erhielten dabei begeisterte Kritiken:  "... klingt wie ein Baby Grand Piano! Jede Note ist so gut definiert! "  BLACK Metal Cover.


ALNICO V MAGNET / D.C. resistance = 8.5K - Magnet dimensions in millimeters: 58 long X 3 thick X 12.5 wide.

This is a P90 pickup in humbucker sized housing. It will fit anyplace a humbucker fits without physically modifying your guitar! Now you can get that wonderful P90 tone in any guitar that currently uses humbuckers. E to E polepiece spacing is 2 inches. These pickups are available in reverse wound/reverse polarity for noise cancellation. An all around terrific pickup, suitable for many musical styles! These come as standard equipment in the Stromberg® Monterey® guitars and have received rave reviews. One player described the fat, full sound as "…sounds like a baby grand piano! Each note is so well defined!" Black Metal Cover.

Kent Armstrong has been designing and building pickups for over thirty years. In that time he has hand made or modified pickups for many of the music world's greatest stars, including Pete Townshend, Jimmy Page, Brian May, Rory Gallagher, and Jimi Hendrix. Some of his commercial clients have included D'Angelico Guitars, Eastman Strings, First Act, U.S. Masters, Conklin, Benavente, Celinder, Eshenbaugh, and Sadowsky (Guitars).