KENT ARMSTRONG® - TWEEDTONE STRAT® NECK PICKUP
KENT ARMSTRONG® - TWEEDTONE STRAT® NECK PICKUP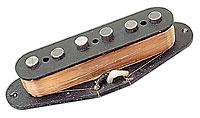 XXL-Ansicht
TWEEDTONE STRAT® NECK PICKUP
Tweedtone - wohin hier die Richtung geht, sagt der Name jedem Kenner...

Dies ist eine wärmere und voller klingende Variante des Vintage-Strat ® Pickups. Eben ein Vintage Pickup, der mit dem Alter abgeklärter wird....


ALNICO POLEPIECES/D.C. resistance = 6.0K Magnet dimensions in millimeters: 5 wide X 17 long

This is a warmer more full sounding variation of the vintage Strat® sound. Like a vintage pickup mellowed with age.

This is available as a calibrated set by ordering part numbers:
STV4B = 7.5K (for bridge)
STV4M = 6.5K (for middle position - reverse wound / reverse polarity
STV4N = 6.0K (for neck position).

Kent Armstrong has been designing and building pickups for over thirty years. In that time he has hand made or modified pickups for many of the music world's greatest stars, including Pete Townshend, Jimmy Page, Brian May, Rory Gallagher, and Jimi Hendrix. Some of his commercial clients have included D'Angelico Guitars, Eastman Strings, First Act, U.S. Masters, Conklin, Benavente, Celinder, Eshenbaugh, and Sadowsky (Guitars).