Modtone Effects - MT-PB8, Modtone Powered pedal board
Beschreibung
Modtone Effects - MT-PB8, Modtone Powered pedal board mit Tasche!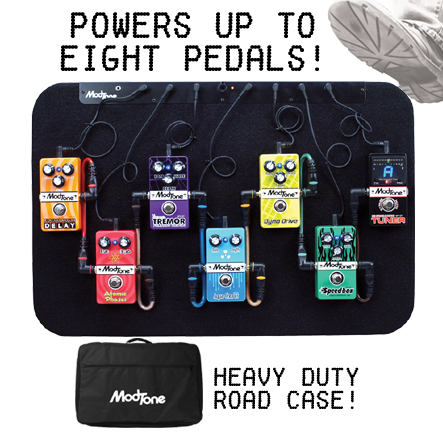 XXL-Ansicht
MT-PB8, Modtone Powered pedal board
Modtone ist eine amerikanische Marke kleiner Auswahl fantastischer Effekte zu einem sehr guten Preis-Leistungs-Verhältnis herstellt. Mit vielen verschiedenen Serien und Produkten ist die Modtone Produktlinie phänomenal: schlichtweg alle Effekte, vom Wah über Oktaver bis hin zum chromatischen Tuner oder der multiplen Stromversorgung. All diese Effektpedale haben ein solides superkompaktes Metallgehäuse (MXR Typ) und liefern ein transparentes und cleanes Signal.

LIEFERUNG OHNE EFFEKTPEDALS!

The ModTone Powered Pedalboard measures 23 1/4" x 15 1/2" and can power up to eight pedals. Everything you need is here including all cables and AC Power supply and comes in a durable rock ready 20mm nylon road case! Clean and reliable, the MT-PB8 puts all your pedals in one easy to transport package so all you have to do is stop, drop and rock!

Need more info? Watch the

Video

Below!
Effects pedals are not included!
Voltage switching power supply 100-240V AC -- 450ma DC outlet
8 Protected 9V DC outlets -- 100ma per outlet, 450ma maximum current 
8 x 3.5mm female miniplug