NUX Mighty 15 Guitar Amp with built in FX
NUX Mighty 15 Guitar Amp with built in FX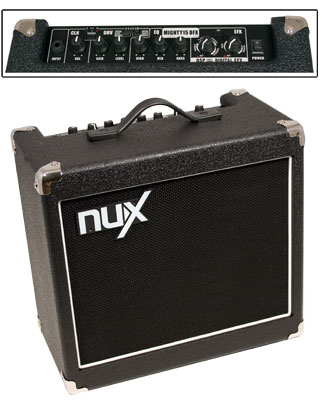 XXL-Ansicht
NUX Mighty 15 Guitar Amp

Dieser kleine Brüllwürfel leistet Erstaunliches!



Mit wirklich beeindruckenden, natürlichen Sounds bietet er Dir die Vollbedienung von Clean bis Heavy incl. eingebauter digitaler 24bit-Effekte und eingebuautem Tuner! Sensationelle Qualität für diesen Preis!
Da bleibt kein Auge trocken....Einstürzende Neubauwände im Wohnzimmer....? Roaahhrr!!!



CHECK IT OUT ON YOUTUBE!!

NUX has introduced a new MIGHTY15 amplifier that combines compact size, vintage looking, Digital effects, built-in tuner and pure tone. In addition to transparent clean tone in CLN channel, this tiny monster MIGHTY15 features six tube amps simulation which include Tweed, Plexi, British, Modern, Recto and Metal in her DRV channel! Other features include a 3-band EQ, 15watt rms solid power and 8 inches speaker, the MIXER/PHONE output provide warm and rich tone specially designed for stage or headphone. CD/MP3 and AUX IN input the external sound source.
On the effects, MIGHTY15 features four modulation effects which include Chorus, Flanger, Phaser and Tremolo, two delays and a Reverb, Individual controls for mod effect and Echo/Delay/Reverb are provided. A TAP tempo button sets delay time. A 24bit/48kHz A/D/A and 24bit DSP for highest effects quality. MIGHTY15 also features a built-in tuner.


1. 100% Analog preamp circuit for warm, organic sounds
2. Six types of Overdrive which include Tweed, Plexi, British, Modern, Recto and Metal
3. Seven 24bit/48kHz Digital effects which include Chorus, Flanger, Phaser Tremolo, Echo, Delay and Reverb
4. TAP tempo sets delay time
5. Low, Mid and High 3-band passive EQ
6. 15watt rms power output
7. Built-in tuner
8. 8 inch High Quality speaker
9. MIXER/PHONE output jack