Rockett Pedals - 10 Ton Hammer
Beschreibung
Rockett Pedals - 10 Tone Hammer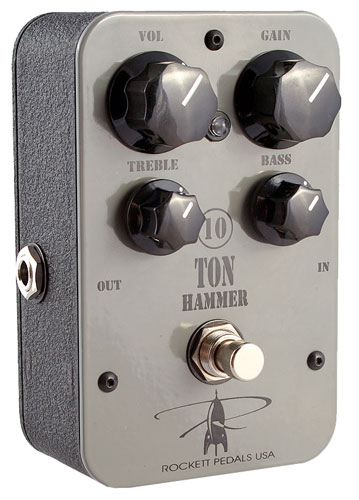 XXL-Ansicht
10 Tone Hammer
 Der 10-Ton Hammer ist ziemlich selbsterklärend. Dies Pedal war für die High Gain Sounds der 80ger puristisch gestaltet. Mit separaten Bass-und Höhenregler ermöglicht dieses Pedal sehr modifizierbar Töne. Wir persönlich bevorzugen die old school high gain tones mit gut zu artikulierenden Akkord Voicings, aber immer noch mit einem natürlichen Drive.
 Features:
Volume: controls level of signal
Gain: controls level of overdrive
Treble: controls level of high frequency
Bass: controls level of low frequency
Power: 9 vdc
True Bypass




The 10 Ton Hammer is pretty self explanatory. This pedal was designed for the high gain old school purist. With separate bass and treble controls this pedal allows for very tweakable tones. We personally favor the old school high gain tones with very tight low end and articulate chord voicings but still with a natural drive. Drop the 10 Ton Hammer on the hardest piece of old school metal you have!
The Rockett Pedals 10 Ton Hammer is a perfect distortion pedal for players who have a clean amp, like a Fender.  It may not play nicely with high gain amplifiers, that?s just the nature of the high gain game.  This is a highly responsive pedal, and with some creative use of your guitar?s volume and tone knobs, you can even achieve some bluesier tones for added versatility.  But really, subtlety isn?t this pedal?s primary job.  It is here to crush, kill, and destroy, but in a very musical and harmonically rich way.  Get back in tune with the old school overdrives that made you wanna rip some killer riffs and leads in the first place.  The Rockett Pedals 10 Ton Hammer will unleash a pummeling tone with all the intensity of a monstrous wall of distortion.For any guitarist who delves into the world of heavy music, this completely organic and highly musical pedal will deliver some nice grit and dirt for vintage 70?s rock, all the way up to some thick and sustaining modern high gain, and without nasty trebly fizz. Dirty overdrive all the way to brutal metal, the Rockett Pedals 10 Ton Hammer can do it all.