ZVEX Super Duper Vexter
ZVex - Vexter Super-Duper 2-in-1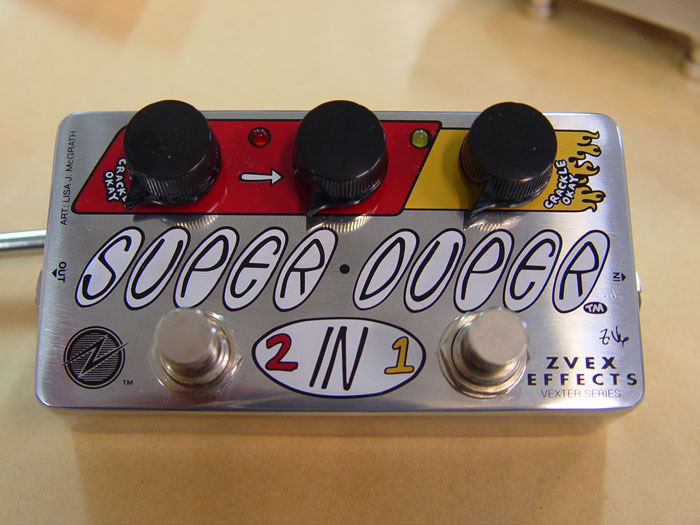 XXL-Ansicht
 
ZVex Vexter Super-Duper 2-in-1
Bei dem Super Duper Vexter handelt es ich um 2 hintereinander geschaltete Super Hard On mit einem zusätzlichen Master Volumen. Mit dem Pedal ist eine enorme Lautststärke-Anhebung möglich.  
Durch das Master-Volume kann das Pedal auch als Overdrive/Distortion benutzt werden mit einigen höchst ungewöhnlichen Sounds.
Features:
2 Switches with coinciding LED?s
Channel 1 - conventional Super Hard-On
Channel 2 - with Master Volume control
Standard -9vdc input
Is one ZVex Vexter SHO just not cutting it? Then the ZVex Vexter Super-Duper 2-in-1 Box is your new best friend. The ZVex Vexter Super-Duper 2-in-1 Box is two SHO?s in one amazing little package. With 2 foot switches you decide what it?s doing; one for a rhythm push and one for lead, one always on and one for a little more or use both to send your tone through the roof.
ZVex Vexter Super-Duper 2-in-1
CHANNEL 1: This channel is a conventional Super Hard-On (TM), which I will henceforth refer to as the SHO, in order to reduce potential offense to young ears and sensitive persons. Its gain control is on the far right, and it's LED is yellow. If you are familiar with the SHO, you'll know that it's a very sparkly sounding high input-impedance preamp with incredible headroom, wide-ranging gain (unity to 60 X), and a maximum volume that will knock out your fillings. Channel one has no Master Volume control, but it's cascaded into Channel 2, which does...

CHANNEL 2 AND THE MASTER VOLUME: This channel has the very same circuit as Channel 1, but the bleeder resistor on the output has been replaced with a Master Volume control, which allows the user to turn down the output volume even if the gain is set quite high. The knob on the left is the gain, and the middle knob is the Master Volume, and the LED is red. When both channels are on, or if only Channel 2 is on, the Master Volume is active. If you leave the Master wide open, you have two identical SHO pedals in one box, which are cascaded.
ZVex Vexter Super-Duper 2-in-1 Features:
2 Footswitches with coinciding LED?s
Channel 1 - conventional Super Hard-On
Channel 2 - with Master Volume control
Standard -9vdc input