Bare Knuckle Pickups - HSP-90 Mississippi Queen Set Nickel Cover
Bare Knuckle Pickups - HSP-90 - Mississippi Queen Pickup Set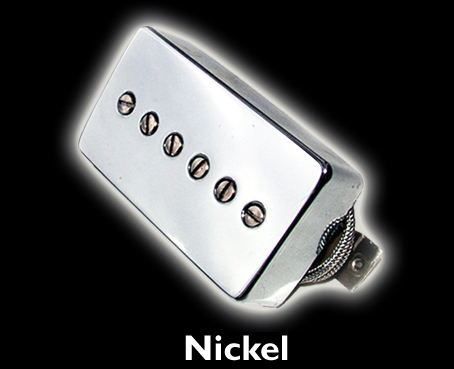 XXL-Ansicht
HSP-90 - Mississippi Queen Single
Bare Knuckle Pickups ist eine kleine Manufaktur mit Sitz in England. Hier arbeiten Freaks für Freaks, das alleine Ziel ist es, die bestklingenden Pickups und excellenten Service zu bieten. Die lebenslange Hersteller-Garantie auf die Pickups spricht da eine deutliche Sprache.BKP deckt mit seinen Produkten das gesamte Spektrum hervorragender passiver Pickups ab. Es sind alle denkbaren Variationen bestellbar, vom Einzelpickup bis zu kalibrierten Sets, aged oder normal, verschiedene Pickup Covers und Polungen, gewachst oder ungewachst bis hin zu Humbuckern für 7-String oder 8-String Gitarren wird alles in kurzer Zeit hergestellt und geliefert.
Sonderwünsche werden erfüllt. Die PU?s werden frisch gewickelt, wobei die Lieferzeit meist nicht mehr als 2 Wochen beträgt.
Mississippe Queen Humbucker sized P90
Echter P90 Sound an Board. Ungeschliffene Alnico-Magneten und ausgesuchter Windungsdraht garantieren diesem Pickup einen saftigen Sound, der niemals matschig klint und immer den typischen P90 Sound liefert. Erste Wahl von Matt Bellamy (Muse)!  
Position: Neck and Bridge Pickup
Conductor: 2 Conductor + Screen
Leg: Long
Cover: Nickel

DC

: 7.9/7k* (bridge/neck)

Neck Magnet

: Alnico IV
Options: Available in calibrated sets as with Nickel, Chrome, Black or Gold Covers and a RW/RP neck.  
Mississippi Queen humbucker sized P90
 
Genuine P90 tone the size of a mountain!
Real P90 tone because that?s what?s under the cover, a real P90! Scatterwoundwith original 42 AWG plain enamel wire and powered by unpolished vintage cut Alnico V(bridge) and Alnico IV(neck) magnets, the tone is huge with excellent definition and presence. The original PAF reproduction cover offers increased protection and screening whilst fitting any standard humbucker cavity and mounting ring.
A P90 should sound fat but never bloated and the Mississippi Queen packs some serious weight without ever compromising clarity or authentic P90 tone. All aboard and full steam ahead! 
Available with either stock or RWRP neck, optional coil tap for even more versatility and a choice of solid nickel, chrome or gold covers. 
Our commitment to producing the best sounding pickups possible means that we don't cut corners on anything whilst keeping the price to the end user as fair as possible. 

We want you to have the same confidence in our pickups as we do so you can get on with playing the guitar knowing you've got the ultimate pickup for the job. After all, that's why we're here in the first place and why we warranty our pickups not just for a few years but for life!. 

   Our commitment: 

1. Always build the best sounding pickups possible.
2. Only use the finest and most traditionally authentic materials.

3. Wind all our pickups by hand, one at a time here in the UK.

4. Manufacture or source all our components in the UK.

5. Warranty all our pickups for life to the original purchaser.

6. Supply the best customer service and backup available.

7. All pickups made specially to order with a fast turnaround time.

8. Listen to you the guitar player and what you want.

9. Never compromise on creating the best so we can all have more time playing theguitar. Amen. 
Bare Knuckle P90 Pickups® Mississippi Queen - New
A true P90 single coil mounted onto a humbucker chassis. Our first humbucker-size P90 and the benchmark for all HSP90 tone. The Mississippi Queen humbucker-size P90 was the first HSP90 made by Bare Knuckle back in 2005 and quickly rose through the ranks being used by players as varied as Adrian Legg and Matt Bellamy. Fitting into any standard humbucker cavity, the Mississippi Queen offers humbucker players a direct replacement to experience true P90 tone without hacking their guitars about.
The wide and squat coil of a P90 creates a fatter tone compared to a Strat or Tele coil while the twin magnet design gives all the power of a hot humbucker. Wound with 42AWG plain enamel wire, the bridge Mississippi Queen is powered by Alnico V magnets and the neck, Alnico IV magnets. While the bottom-end is solid and the highs really sing, it's the mid range where it's really at; all the muscle of a humbucker but a much wider frequency response allowing the mids to really breath.
Into a clean amp the tone is fat and earthy, crank up the gain and the Mississippi Queen can absolutely scream. Add plenty of head room for superb dynamic control and a calibrated neck for complete balance and you get a set of HSP90s that can cover just about anything.
Applications:
Blues, Country, Funk, Indie, Alternative, Hard Rock and even Metal.
Suitability:
Any solid body guitar or semi- acoustic guitar; well suited to baritones and drop tuned guitars.
Options:
Stock wound or RWRP neck coil.
Covers: nickel, chrome, gold, black, brushed nickel, raw nickel, camo, black battle worn, burnt chrome plus aged finishes.
Original braided hookup or 2 conductor plus screen hookup.