Dunlop MXR M 116 FULLBORE Metal Distortion
Dunlop MXR FULLBORE METAL DISTORTION M116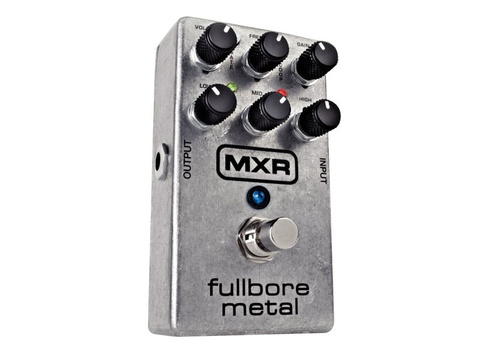 XXL-Ansicht
MXR FULLBORE METAL DISTORTION M116
Das MXR M-116 Fullbore Metal Distortion ist das Distortion-Pedal für die ultimative Riff-Power.
Dem MXR M-116 Fullbore Metal Distortion kannst Du die brutalsten Metal Sounds entlocken, die die Welt je gehört hat.
MXR M-116 Fullbore Metal Distortion
Super High Gain Distortion Pedal
Regler: Bass, Mitten, Höhen, Volume, Frequenz und Gain
Mittenfrequenzen einstellbar von 200HZ bis 5kHz
Noise Gate zuschaltbar
Treshold für Noise Gate Empfindlichkeit an internem Regler
Scoop Schalter für Bass und Treble
Status LEDs für On/Off, Scoop und Noise Gate
True Hardwire Bypass
Signalweg komplett analog
Stabiles kompaktes Metallgehäuse
Betrieb mit 9V Batterie oder optionalem Dunlop ECB-003 AC Adapter



Made in USA
This compact but powerful MXR guitar pedal is all you need to unleash the most devastating contemporary metal guitar tones ever heard. The FullBore distortion pedal turbocharges your guitar signal with lethal amounts of ultrahigh gain. This is combined with a built-in Noise Gate to knock out the noise associated with extreme gain levels while also adding definition and tightness to syncopated metal riffs. 

The effect pedal's extensive EQ controls, with Bass, Mid, sweepable Mid-Freq and Treble knobs let you sculpt your tone with fiendish precision. The additional Scoop switch provides an instant high and low frequency boost that'll rumble the room while also adding clarity. Available from MXR, the world leader in analog pedal technology.
MXR M116 Fullbore Metal Distortion Guitar Effects Pedal Features:
Super high-gain distortion

3-band EQ with sweepable mid frequencies

Tight, fast, switchable Noise Gate for syncopated metal riffage

Internal Gate Trigger control lets you set the Noise Gate's sensitivity

Scoop Switch boosts the highs and lows while the EQ stays active

True Bypass with LED

All-analog circuit path
With its die cast chassis, robust stomp switch and carefully selected components, the MXR Fullbore Metal is truly a modern day classic.
 
---