Dunlop MXR M 148 Micro Chorus
Beschreibung
Dunlop MXR M148 MICRO CHORUS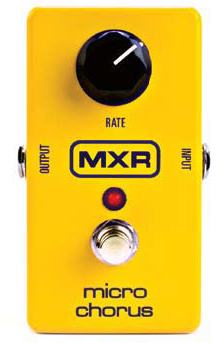 XXL-Ansicht
MXR M148 MICRO CHORUS
 MXR M148 - Gitarre Effektpedal, lässt die 80er Jahre wieder aufleben!
mit Chorus-Effekt
Sounds von leichtem Chorus bis zu Rotary Speaker Simulation
Rate-Regler: reguliert Geschwindigkeit des Choruseffekts
komplett analoger Schaltkreis
Eimerketten-Prinzip, für einen warmen, analogen Ton
True Hardwire Bypass
Status LED
Fußschalter aus Metall
platzsparendes, "Phase 90" großes Gehäuse
Stromversorgung: Betrieb mit 9V-Batterie, oder optionalem Netzteil (Dunlop ECB-003 AC Adapter 9V)
Mit seiner einfachen Bedienung und dem stellar analogen Ton reiht sich das neue Micro Chorus nahtlos in die Riege der bekannten MXR-Pedal-Klassiker wie das Phase 90, Dyna Comp und Micro Amp ein.
 
With its simple operation and stellar analog tone, the MXR Micro Chorus guitar pedal joins the ranks of MXR Classics such as the Phase 90, Dyna Comp and Micro Amp.
This '80s reissue delivers a stunning range of rich chorus textures, from sparkly watery shimmers to intense rotating speaker simulation with a twist of the Rate control.
The MXR Micro Chorus pedal is designed with old-school bucket brigade technology for warm analog tone and features true bypass for pure guitar tone when the guitar effects pedal is off. Its roadworthy hardware and components are housed in a space saving Phase 90-sized box.
The MXR Micro Chorus pedal can be powered by one 9V battery (accessed by removing the effect pedal's bottom plate), a Dunlop DC810DC brick, or MC403 Power system (sold separately).
Features:
All-analog circuitry with bucket brigade technology for warm analog tone
True bypass with LED
Rate knob adjusts speed of chorus effect
Specifications:
Input impedance: 1 mOhm
Output impedance: 1 kOhm
Max input level @ 500Hz: -5dBV
Max output level: +5dBV
Max output level: +8dBV
Rate control Min/Max: 0.25Hz/7.5Hz
Signal to noise ratio: >89dBV*
Delay time min/max: 3.9ms/5.4ms
Frequency response
Delayed signal: 20Hz to 4.5kHz
Dry signal: 20Hz to 20kHz
Current draw: <5mA
Power supply: DC 9 volt
Bypass: true hardware
Housing dimensions: 4-3/4"D x 2-3/4"W x 1-1/3"H
Housing material: zinc
Weight: 14 oz.
0 dBV=1VRMS
 
---