Pro Tone Pedals - Flying Eye Autowah
Pro Tone Pedals - Flying Eye Autowah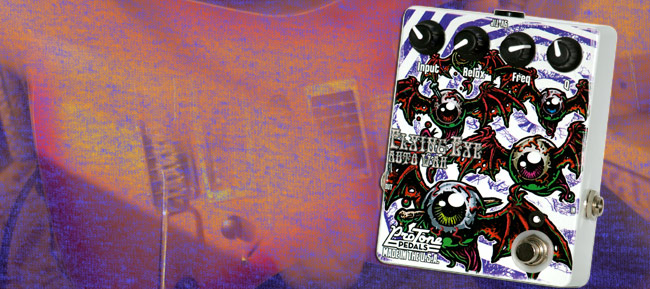 XXL-Ansicht
Pro Tone Pedals - Flying Eye Autowah
Redesign des Envelope Filter. Das Flying Eye ist nach dem Redesign nunmehr eines der flexibelsten Boutique Auto-Wah-Pedale am Markt. 


Pro Tone Pedale sind auf Tour mit Alice In Chains, 30 Seconds To Mars, Camp Freddy, Flickerstick, Poison, Ministry, Prong, Peter Murphy, and Bleed ve Die Sky. In Studioaufnahmen von Nevermore, Velvet
Revolver, The Absence, Arkaea, Overkill, Mob Research, Circus Diablo und Fear Factory sind diese Pedale ebenfalls zu hören.
The Flying Eye has been totally redesigned to be a true auto wah rather than an envelope filter. This redesign has made the Flying Eye one of the most flexible boutique auto wah pedals available today.

controls:
Input: Sets the filters input sensitivity level. This allows you to use a wide array of pickup configurations from low output vintage to high output active bass pickups.
Response (Relax in the photos shown, but changed during final production): Think of this as your foot rocking action on a traditional wah wah pedal. This can be set to a high speed in order to get a wah effect on each note, or to a slower speed to act more as a cocked-wah filter.
Freq: Adjusts the filter frequency.
Q: Controls the 'quack' or peak of the filter.