Pro Tone Pedals - Gold Label Overdrive
Pro Tone Pedals - Gold Label Overdrive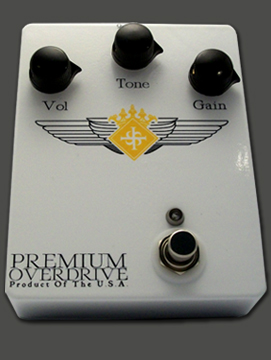 XXL-Ansicht
Pro Tone Pedals - Gold Label Overdrive
Das Gold Label OD aus der Premium Serie von Pro Tone Pedals wurde als Overdrive mit ausgeprägtem Head-Room konzipiert und ist auch als Clean Boost nutzbar. Um die maximale Tonentfaltung Deines Vintage Amps zu unterstützen, wandelt ein interner Schaltkreis die 9 Volt Eingangsspannung eines herkömmlichen Netzteils intern in 18 Volt um. Das Resultat beeindruckt durch eine Tonalität, die jede spielerische Nuance wiedergibt.  

Pro Tone Pedals wurde im Jahr 2004 gegründet und stellt hochwertige Gitarren-Effekte her, die für den modernen Rock-und Metal-Gitarristen entwickelt wurden. In den letzten Jahren hatte das in Dallas, Texas ansässige Unternehmen die Gelegenheit, mit einigen der größten Namen in der modernen Rockmusik zu arbeiten.

Pro Tone Pedale sind auf Tour mit Alice In Chains, 30 Seconds To Mars, Camp Freddy, Flickerstick, Poison, Ministry, Prong, Peter Murphy, and Bleed ve Die Sky. In Studioaufnahmen von Nevermore, Velvet Revolver, The Absence, Arkaea, Overkill, Mob Research, Circus Diablo und Fear Factory sind diese Pedale ebenfalls zu hören.




Pro Tone Pedals is proud to offer the Gold Label Overdrive, the first in the Premium Overdrive line. This 18 volt circuit was designed to deliver lush overdrive with the head room to provide a rich clean boost.
The Gold Label Overdrive is truly a boutique overdrive pedal and not designed for the masses. This luxurious hand wired overdrive was designed for players with exacting tastes in equipment by playing to the strengths of the 'beauty in simplicity' of vintage amps and modern recreations of those timeless designs.
The Gold Label Overdrives touch sensitivity will astound you as the subtleties of your technique are audible like never before.
As a tone seeker, you understand the significance of your overdrive running on 18 volts. The Gold Label operates on a 9 volt power supply, with an internal voltage converter which transforms that 9 volts into 18 volts.
18 volts provides more balanced power and head room which allows for a unwavering, full-spectrum reproduction of your guitars pure signal.
The Gold Label create its huge tone by fusing its distortion with your unaltered guitar signal. The Drive knob controls this functionality by adjusting the amount of gain and the mix of clean signal. With the drive set low the Gold Label acts as a gorgeous clean boost.
The Gold Label Overdrive will be the last overdrive pedal you'll ever need to invest in.