Dunlop Cry Baby Classic GCB 95 F
Crybaby Classic GCB 95 F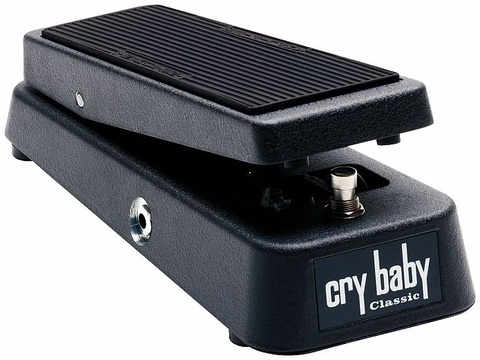 XXL-Ansicht
Crybaby Classic GCB 95 F 
 
Der Wah Klassiker mit Fasel Induktorspule! Das Dunlop Crybay Classic arbeitet mit der legendären Fasel-Induktorspule, die schon den allerersten Crybabys ihren unnachahmlichen Sound verlieh. Lange waren diese Spulen nicht mehr erhältlich, aber jetzt kann man wieder den Vintage Wah Sound aufleben lassen.  
 
Features: 
Vintage 60s Wah Effekt der allerersten Crybabys 
Originale Fasel-Induktorspule für den authentischen Vintage-Sound 
100 kOhm

Hot

Potz

Poti

für schnelle Ansprache des Effektes 
Sehr stabiles Druckgussgehäuse
True Bypass
Betrieb über 9V-Block oder Dunlop ECB-003

AC

Adapter

(9V) 
Made in the USA
 
 
The CRYBABY® has been a standard in the world
of music since its introduction in the late 1960's. Its
rugged construction and efficient design will give
years of outstanding performance.
OPERATING INSTRUCTIONS ? By rocking your foot back and forth on the
pedal, you can change the effect that the
CRYBABY® has on the tone of your instrument
instantaneously. Toe down will give you more
treble, heel down will give you more bass. The
speed and amount of effect you use depends on
your style of playing. ? When placing the pedal in one position, you will
hear a boost in that particular frequency. This
boost can be used to add sustain and create
feedback of a desired overtone.
TIPS ? Listen to the classic recordings of Jimi Hendrix
and Eric Clapton where the CRYBABY® is used
extensively. After listening to the sound you will
begin to recognize the CRYBABY® in just about
every rock player's repertoire. ? When using a lot of distortion, the effect will not
be as prominent. Try setting the pedal in one
position. This will help in making artificial
harmonics and controlling the amount of feedback.
 
---