Dunlop MXR CSP 202 Custom Comp
MXR Custom Comp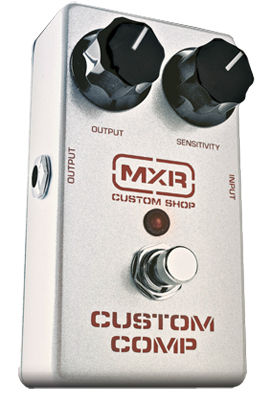 XXL-Ansicht
MXR Custom Comp
Das MXR Custom Comp Pedal besticht durch einen unglaublichen dynamischen Sound.
MXR Custom Comp:
Custom Shop
Bestückt mit Modern und Classic Compressor Technologie
Seltene CA3080 Metal Can IC
Regler: Output und Itensity
Robustes Gehäuse
 
MXR Custom Comp
The MXR Custom Comp is a truly astounding compressor pedal, a pedal that takes the best compressor technologies of the past and present and fuses them into a standout pedal.  The centerpiece of MXR Custom Comp is the rare and somewhat legendary CA3080 ?metal can? IC.  The CA3080 delivers an astonishing amazingly transparent tone and dynamic range, and ultra-silent operation.  The MXR CSP202 also features RF suppression components for interference-free operation.  Fine tune the CSP 202?s operation with an internal Attack control that alters the note?s initial attack.  The MXR Custom Comp meets the exacting quality of the MXR custom shop, with true bypass through a TPDT (Triple Pole Double Throw) switch, and a rock solid metal casing.
MXR Custom Comp
The MXR Custom Comp is another pedal of superior quality from the MXR custom shop.  This compressor pedal delivers amazing punch and clarity without coloring your tone, or giving it too much squash.  Single coils will sparkle and spank, and sustain is present for days with this simple but effective stompbox.  For clean funk rhythm players or Nashville cats, the MXR Custom Comp is the compressor to get acquainted with.  It delivers incredible quality compression with boutique styled components in a road worthy case that will take the bumps and knocks of gigging.
MXR Custom Comp Features:
True bypass
9v dc power
Output Knob: regulates overall output of signal
Sensitivity Knob: regulates overall effect rate